Found Poetry – 6:00 – 8:00 a.m.
Its The Final Countdown! 😀
"Found poetry is a type of poetry created by taking words, phrases, and sometimes whole passages from other sources and reframing them as poetry by making changes in spacing and lines, or by adding or deleting text, thus imparting new meaning." How nice of the wiki to define it this way… LOL
I've really personally struggled with this art form and finally found some examples of styles of found poetry that appeal to me!
The most popular method of creating found poetry right now is to find words still on a page of text from a book and black out or create art over and around the words not chosen, usually flowing down or across the page in a shape in the same order as they were originally presented as if the genius of the artist was simply waiting for this page and in meeting some sort of magic happened.
Google it and click "images" and you'll find dozens of types and styles, mostly all circled words on a page.
Here is one that one of my co-hostesses created for me in a Round Robin journal we did together.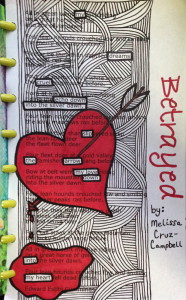 I suck at this entirely.
And then I found photos of collage pieces, and ransom note style poetry that leapt off the page all grungy and amazing… FINALLY… something that spoke to me personally and that excited me about this art form!
So I cut up a pile of words… all from a single page of text… and I selected the ones that I liked best. I've worked to replace them from text in different forms or sizes and shapes and I've otherwise altered the ones I have here.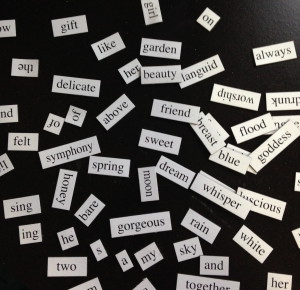 And now they are my flow and my words. Not entirely unlike Dr. Seuss who first wrote the Cat in the Hat using only a list of 220 vocabulary words then being challenged to write a whole book using only 50 words, and turning out one of the most favorite children's books of all time, Green Eggs and Ham.
No, I do not compare my art to the master of the wacky rhyme, I simply point out that limiting my list is as good as it gets, because I do not see poetry in words already published on a page until the page has been deconstructed again. Creativity is in part the finding of a way to express yourself regardless of your limitations. Particularly when they are your own.
I find poetry in the flow of things around me. And in words piled on a desk. Or in text here… maybe. Come on, if you're out there and awake and hanging around… post some words in the comments here or on the Facebook group feed and let's see what I can make of them with the time we have left after I complete this canvas.
Here is a poem written on the bus going home night after night past the same signs and advertisements until they formed a story in my mind… sometimes it isn't so much that we find a poem as that we see that it has found us…
*hint: think beat poetry and read aloud*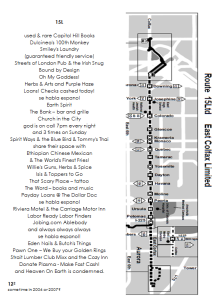 I'll take pictures for you of the piece of artwork I'm creating now as a close to this fantastic experience with everyone… please, if you're not interested in finding poetry on a page the way that so many people are so beautifully capable, think in your mind of a poem that you could say you "found" inside yourself or from your life, or that found you from someone else's experience… illustrate your poetry and tell the story of how you "found" it. Post it.
This piece of art will be one of the prizes offered up today, and it is a little different… because you can't win it, you can only trade for it. You must trade it for the one YOU create.
**
NOTE: When wingeing to my co-hostesses that I was afraid I'd bomb this thing I got some exceptional advice that I would like to share. As a student in school Rhonda did a found poetry piece that was so good that her teacher featured it on the first page of the class poetry book. Her exact words, "Grab something and read it. Write down the most interesting words. Put them on individual small pieces of paper. Like tiny rectangles. Mix those up in something and drop some on the floor. Compose those into a sentence and continue until you are happy with the results. You will need to add a few connecting words. I prefer to keep those to a minimum, but use as needed."
Beauty. I've asked her to share her poem in the feed below when she's able to log in today.