Welcome committed artisans and fans we are entering the final stretch. Those of you still awake have a chance to win a prize for staying up with us.
A lesser known fact about me (Rhonda Chase) is that I write Children's stories and poems. I've always loved Dr Seuss and Shel Silverstein's unique artwork paired with rhyme. I have started working with a company recently to help me get my drawings and poetry together for print. I would like to share with you the first one we are trying to tackle. (Thinking it to be easier than the longer stories.)
There are a couple of things we still need to work out for the story. I need some sketches and items for the title type pages and to figure out what is missing in the story. We feel like it needs one more line before the end…. What do you think the crayons do before they get put back into the box?
Here are some of the images I made to go with the story some years ago.
Crayons:
I spilled my crayons they rolled around the table.
Yellow stood up plainly with a happy prideful grin.
Planting itself squarely underneath my little chin.
Blue was speaking lightly in a very mellow tone.
Asking in it's own way to be left a bit alone.
Orange kept on rolling tell it ran into a chair.
Pulling out a bandage for it's wrapper had a tear.
Red was staring smugly at my little forest green.
Wanting him for herself to create a Christmas scene.
Green was watching fearfully about to run and hide.
Behind the salt and pepper, or maybe deep inside.
Pink began to promenade around Purple with glee.
Hoping she would be invited to a cup of tea.
Lifting each one gently, I placed my crayons back into their box.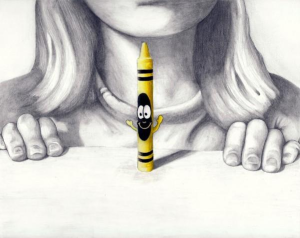 You are welcome to make a drawing about my story or any other you enjoy. What is your favorite story?
Here is one more poem to help inspire you:
The Cat
There was a little cat.
That sat and sat and sat.
Until his butt began to grow.
Because he sat upon it so.
He got off his rump to eat.
And fell back down upon his seat.
The little cat began to fear.
His rear had grown too large to steer.