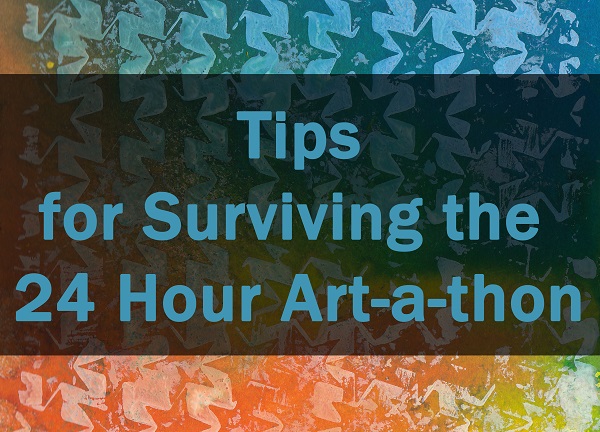 The art-a-thon will soon be upon us so I have decided to create this post to offer you some tips to help you "survive" the 24 hours. Even if you don't participate the entire 24 hours these tips will also help you.
1 – Get a good nights sleep.
Especially if you plan to stay awake the entire 24 hours.  Sleeping at least 7 to 9 hours will ensure you have the energy to tackle the next day.
2 – Have a good breakfast.
A good breakfast will give you more energy for the day but avoid a very heavy meal.  Heavy meals may make you feel tired and stuffed so you may not want to do anything.
3 – Take breaks!
Breaks are very important.  Stepping away from your art for a few minutes will let your hands rest. Taking a short nap when your starting to feel tired may help you recharge your energy so you can continue.
4 – Make sure to have snacks and meals.  
Make sure to have snacks on hand but try to avoid having too many sugary snacks.  If you eat too many sugary snacks you will eventually crash from the sugar high and not feel so good.  You should also make sure to have lunch and dinner but as with breakfast avoid eating a very heavy meal.
5 – Do the best you can.
If the best you can do is a few hours, thats ok.   If you're only able to create two art pieces, thats ok.  If all you are able to do is socialize with the other participants and hosts, thats ok.  If you can't achieve all the goals you set for yourself, thats ok. Just do the best you can, have fun and enjoy the experience!
6 – Don't stress over the prompts!
If you get stuck on a prompt don't worry about.  Don't force yourself to do a prompt you don't like; it will only make you unhappy and you won't have fun.  Instead create something else.  The prompts are there to inspire you but if they don't its perfectly ok to create whatever you want.
7 – Have fun!