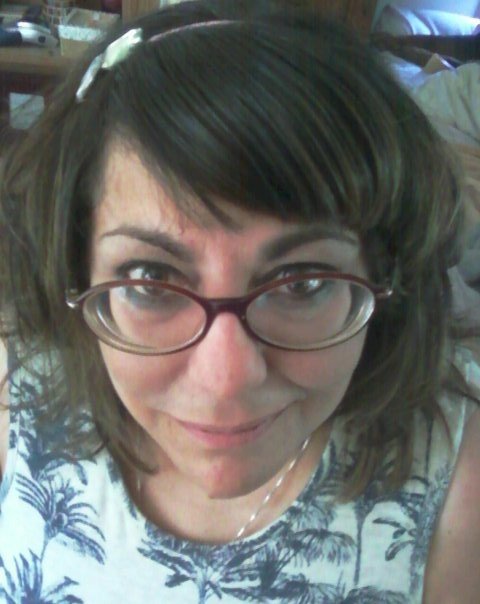 Meet Trisha Doran, the third guest host for the upcoming 12 Hour Art-a-thon that will be held on the 14th of January. Below is a quick interview to help you get to know her better.

Melissa – Tell us a little bit about yourself.
Trisha D. – I live in Independence, Missouri with my 4 dogs, Zeke, Luna, Lily & Bandit. They are my great joy and besides reading and playing online games, political fighting on facebook and art, I have no other hobbies, really. I like to cook and I'm great at it, but I never clean, ever. I've finally rectified that issue by hiring it done, so it's not such a smelly dog, artsy mess. I also curse a lot, even when others would find it unnecessary.

Melissa – What kinds of art do you do? Which is your favorite?
Trisha D. – Mixed media, knitting now and then


Melissa – What inspires your art?
Trisha D. – Emotions, phrases, music. I read a lot and often jot down inspirational/thought-provoking words I read. I did a mixed-media wallet that was inspired by my sister "I don't have to be honest with someone I don't give a shit about."

Melissa – Tell us about your work space.
Trisha D. – Uggh! Actually, I've been on a year-long quest to organize it. For people who know me slightly, they would be surprised to know that it's very girly – now the room is painted pink and I have a pink chandelier (squeeee!). I'm a closet girly-girl. It makes me happy, and that's all that matters. I'm also a horrible slob, so time shall tell if it will stay pretty.

Melissa – What are some of your favorite mediums to work with?
Trisha D. – Water-soluble anything – that really trips my trigger. Sprays and stencils – fun! Glitter of course, if that's a medium LOL. Ink. Mostly anything messy and drippy and I'm there.


Melissa – Are there colors you favor in your art? If so what are those colors?
Trisha D. – I like what I call mermaid colors – aqua, turquoise, emerald green, violet, dark blue, etc.

Melissa – Is there any art technique, supply or medium you would like to try?
Trisha D. – Gelli plate!

Melissa – When being creative what is one thing you must have?
Trisha D. – A pen.

Melissa – Who is your favorite living artist? Who is your favorite deceased artist? Why are they your favorite?
Trisha D. – Jeez, this is hard. Living artists are mostly people I "know" on the internet and am friends with on Facebook. Effy Wild, Sarah Trump, Nika, Tamara LaPorte. Dead artists? Renoir, Degas and Monet all trip my trigger. I love the ethereal beauty they portray. I'm also one of the few who can't stand Frida Kahlo – yeah, I said it. it's true.

Melissa – What is your favorite work of art?
Trisha D. – Waterlilies – Monet