Intuitive Watercolor Prompts
Supplies: watercolor paints, water-soluble crayons or markers, watercolor paper, spritzer of water
Get paper very wet
Drop blobs of paint or scribble on the paper. Rub it around with brush or fingers. Let dry or dry with heat gun.
Do another with different colors.
What do you see? Turn the paper around, upside down till a shape comes to you. Perhaps cut down to ATC size and look again.
Outline what you see with a black pen (waterproof is best) or black acrylic paint or a black pencil.
What do you see? An eye, a monster (friendly of course!), an animal, in the ATC below, I saw Jesus. So that's what I went with.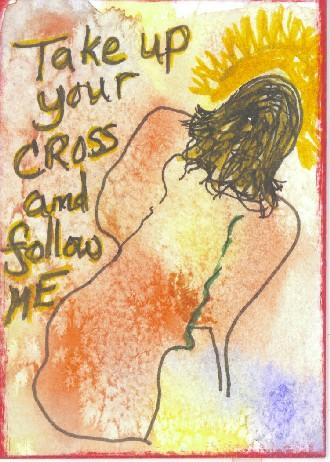 Themes:
Animals
Winter
Beach
Eyeballs
Snakes
Dinos
Monsters
Fire
If you see nothing, fill it with doodles and enjoy the process. Get out your gold pen and ink the edges!