Hey, thanks for joining me on hour four of this fabulous art-a-thon!
My biggest challenge as an artist is to shut down my inner control freak, especially during the initial stages of a project, when control tends to squash inspiration. Icky, as I fondly refer to my inner control freak, lives in the left hemisphere of my brain. She is loud and opinionated, and wants to be in control of every step of the project. She spitefully throws up road blocks as soon as Muse and Creativity, those gentle unicorns who reside in the right hemisphere, attempt to join the party. Before long, there's a brawl going on between Icky and the Unicorns, effectively blocking access to the Kingdom of The Creative Process. There we all sit, fuming at each other in the Forest of Frustration, just one giant stone wall away from the bliss of creating something.
If your brain plays similar creativity-blocking shenanigans on you, alcohol ink can be quite therapeutic. It's a medium that has a way of defying control, especially at the beginning of a project. Each ink has its own agenda when it comes to movement, mixing and patterning, so it's hard to plan or predict an outcome. One minute, the painting can look promising as a floral, and a minute later, it could morph into a herd of wild buffalo thundering across the tundra. Icky gets anxiety attacks over this much randomness, so she usually goes on a little mediation retreat during this part. With Icky out of the way, Muse and Creativity frolic all over the canvas, ideas flowing like beer at a frat party. Once the mood and general feel of the painting gets established, THEN Icky gets to come back and play, appropriately adding form, structure and meaning to the piece.
If you're confused, (which you definitely would be if you've never played with alcohol inks), no worries! By the end of this prompt, you'll be slapping your own Icky into submission as your unicorns happily dance free as the wind all over your Yupo. Sounds, uh… fun, right?
Anyway, here's the process I'll be following for the art-a-thon:
Tools and supplies:
Nonporous substrate, such as ceramic tiles, Yupo, dominoes… (I'll be painting on white ceramic tiles)
Alcohol ink triad (I'm using Ranger/Adirondack Raspberry, Indigo and Sunshine Yellow in my project.)
Alcohol for cleaning, spritzing, mixing, etc.
Paint brushes – my favorites for working on smaller pieces are a script/liner brush, 0 and 00 sized round brushes, and a couple of flat brushes, ¼ to 1 inch-ish. You use much smaller brushes than you'd think because of how much the ink spreads when it hits the surface.
Dip pens
Q-Tips
Alcohol markers, such as Copic, Sharpie, etc.
Palette or extra tile – used to mix and dilute ink
LOTS of paper towels
Gloves to protect hands from staining, if desired
Step one: Select a triad of colors to work with. For this project, I'm using Ranger/Adirondack ink in Raspberry, Indigo and Sunshine Yellow.
Step two: If using a ceramic tile, wash it with hot water and dish soap. Dry completely, then spray with alcohol and wipe clean. If using Yupo, skip this step.
Step three: (Here's where the unicorns come to play): Spray some alcohol onto the surface, then drop one to three colors into the alcohol. Move the colors any way you like. The goal is to create pleasing shapes, colors, contrasts and value changes:
– blow them around with a straw or a can of air
– move the tile around to get colors to blend and merge
– spray more alcohol as needed
– add more color as desired
– push colors around with a brush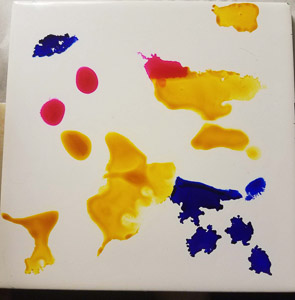 When creating a background, there's kind of a sweet spot you want to hit between too little and too much ink. Later, when using paint brushes and other tools to reveal your image, you'll be happy about having a good layer of ink to work with. Too little ink is limiting, while too much ink will flake off with repeated brushwork. Don't worry too much though. If you don't like what's happening, erase it with a little alcohol and try again, no harm, no foul. In this step, the idea is to cover the tile, as if you were doing a watercolor wash. Once you're happy with the shapes and basic values, take a quick break and let the background dry for a few minutes. Here's a few shots of my progress at this stage:
Step four: (NOW Icky can come play!) Look at the background and see what inspires you. I can almost always find an image that wants to emerge. More often than not, as in this example, I find the potential for a floral painting. Using paint brushes, alcohol markers, dip pens, a tooth brush, or whatever else you have laying around, shape and define the image or images you see.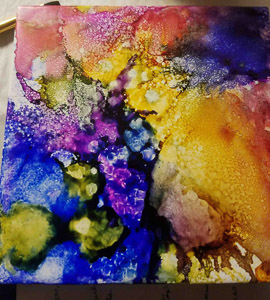 Create highlights by removing ink with a paintbrush or Q-tip dipped in alcohol. Enhance dark areas by painting in more ink. Create texture by applying ink and alcohol in various ways with various tools. Below are more progress shots. I put the painting aside before finishing, as I often do. Icky can get over-zealous and the painting can start to look tight and contrived.  I'll finish it in the next day or two, when the mood hits.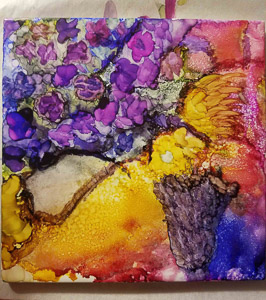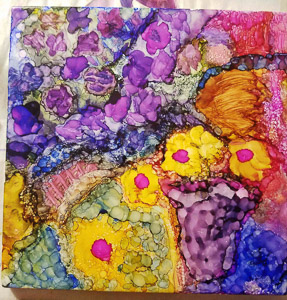 Let's have some fun and see if we can challenge our inner control freaks to back off a bit!