Hi there! Sometimes a gift is best made by hand and this is a quick and very fun little thing that you can make in an hour and spend some time being creative while decorating! The perfect warm and friendly gift for your bff or a co-worker or for yourself on a cold day.
I will be Live online and broadcasting to the feed on Saturday… have some yarn and be ready to play or watch along and ask questions so that you can do it on your own later. 😀
What you will need:
-Chunky or bulky weight yarn in a color you like (recommended brands include Deborah Norville Serenity Chunky, Bernat Chunky and Lion Brand Chunky Heathers or other chunky weight yarns)
-Scissors
-Your fingers
-About an hour of your time after you have practiced slip knots and chaining
The tips:
Choose a fluffy smooth finish yarn… nothing hairy or with big chunky bits sticking out for your first time.
Stay calm. You're learning a thing.
The first row sucks. It usually does. Building a foundation that is even and will support whatever you want to build on it is always the hardest part. Be patient. You'll get it.
Looser is better than tighter.
The abbreviations:
HDC = Half Double Crochet
The pattern:
ROW ONE
Leave a long tail, about 12 inches and make a slip knot (the long tail is for sewing later)
Chain the number of chains that you determined goes around your head where your ears are so that it is snug without being tight. For me this is 36 chains which measures approximately 21 inches. For you this will be a different number. I am guessing something between 30 and 42 depending on the weight of your yarn and the size of your fingers.
Put your thumb from your "non crocheting hand" on the last chain of the number you need and chain one more. Skip the new chain you made and yarn over your finger and work a half double crochet through the chain you were marking with your thumb.
ROW TWO
HDC in the second chain from your finger (or the hook) and chain one, skip one chain and HDC in the next chain then chain one… continue this pattern to the end of the row
HDC in the last stitch of your row and chain one and turn your work
ROWS THREE THROUGH SEVEN OR EIGHT
HDC in the first chain one space from the previous row, chain one and continue across the row making a HDC in each chain one space and chaining one between each HDC to the end of the row
HDC in the last stitch of the row, chain one and turn
(repeat for the remaining rows until your headband/ear warmer is about 5-6″ wide)
TO FINISH OFF CHAIN ONE ON THE LAST STITCH LIKE YOU WERE GOING TO TURN YOUR WORK AND INSTEAD CUT THE YARN 10-12″ AWAY FROM YOUR WORK AND PULL THE YARN ALL THE WAY THROUGH THE LAST CHAIN WITH YOUR FINGER AND TUG DOWN TO SECURE IT
To sew your piece together lay your crocheted rectangle down and fold it in half so that the ends meet.
Grab the bottom corner of the end on top and flip it once so that it is now the top corner (this puts a twist in your rectangle which will make it easier to fit under your hair when worn as a headband) and line up the edges again.
Using your finger to pull the yarn through "sew" the ends of your project together snugly by looping the yarn around the end stitches on both sides of your work from the top to the bottom of the "seam" where the two ends meet.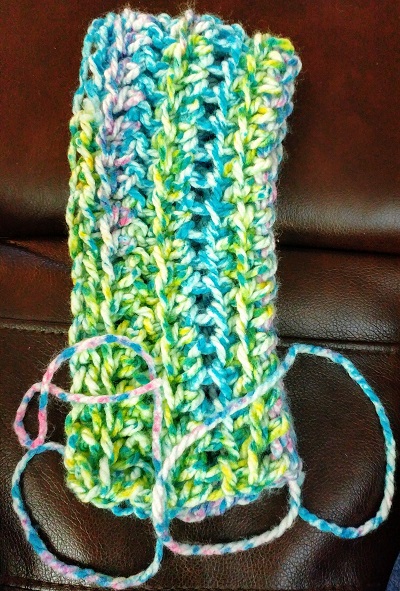 Do this again with your other end of yarn to make sure it is secure. Tug them both tightly so that there are no loose loops of sewing thread. Now weave in the ends by feeding the yarn under stitches along the edge. Remember, it's best to go back and forth and back again so that the yarn weaves through and doesn't pull out.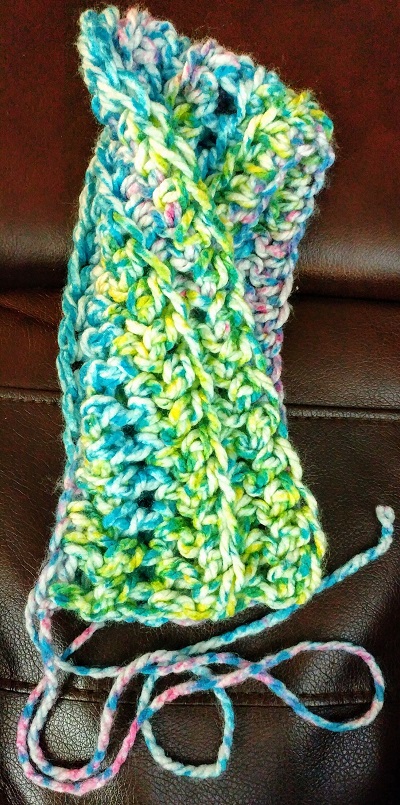 NOW YOU CAN DECORATE AS YOU SEE FIT!
I use buttons and pins and silk flowers or crocheted flowers… Valentine's Day is right around the corner… you COULD use hearts!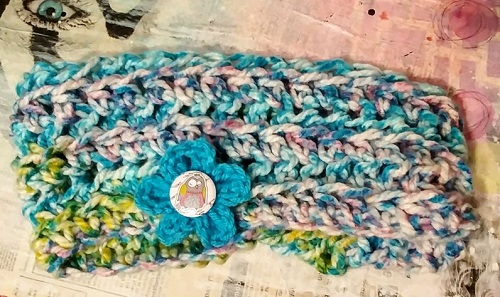 For one lucky person participating in today's prompt there is also a mini prize… decorations and a skein of yarn, you can choose from fluffy bright purple (not pictured) Spring (white with cool color splashes, the same color I worked with today) or Stormy, a dark blue and purple and gray skein of yarn. I will announce the winner after the crochet hour and will post it in the feed. Winners will be chosen from participants posting in the feed and showing what they're working on.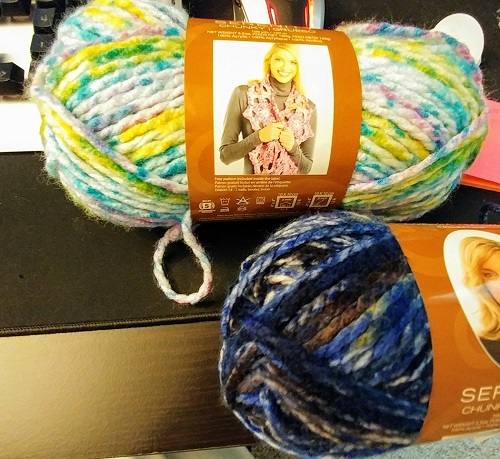 Useful Videos and Links
How to finger crochet a bulky yarn


Turn regular yarn into a bulky or chunky yarn


Crochet Heart


Crochet Flower