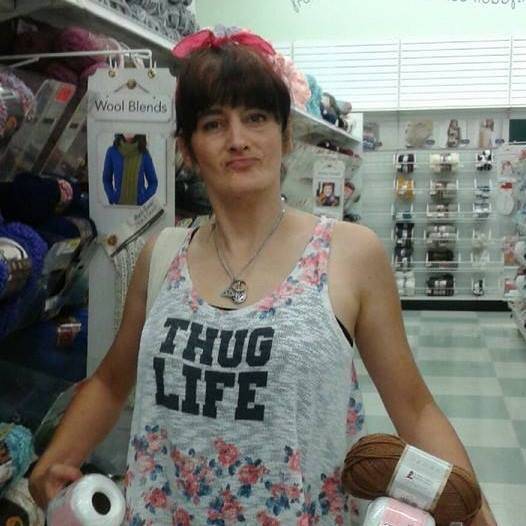 Meet Trisha Fettig, your second guest host for the upcoming 12 Hour Art-a-thon that will be held on the 14th of January. Below is a quick interview to help you get to know her better.

Melissa – Tell us a little bit about yourself.
Trisha F. – I was hatched from an alien egg left on my parents doorstep in Hollis, Queens, NY in 1969. Okay, I was really hatched in a human incubator and adopted by them, but grew up wishing and hoping that my real biological parents were Cher and Sasquatch. I was lucky enough to have a father who encouraged every single one of my passions and would give me giant color books that were 3′ tall and blueprints from his job as a rebar detailer to use as art paper. So I am probably one of the only people who has had the opportunity to draw massive stick figures on the back of the plans for the Twin Towers, the Verazanno Narrows Bridge and Yankee Stadium.
As a grown up, Okay, I'm not really grown up, I'm just tall for my age, I live in Western New York, and I bowl. It's the only hobby I have time for currently, because I am always crocheting something for my business, Yankee Rose Creations.

Melissa – What kinds of art do you do? Which is your favorite?
Trisha F. – I crochet, and crochet some more, and then I crochet for fun. But I also paint, sew, quilt, and really like to do anything creative. My favorite is probably painting. Especially 3D painting of sculptures and ceramics, but I don't do it enough.

Melissa – What inspires your art?
Trisha F. – People inspire my art. The majority of the things that I make have all been requests from one person or another. I actually just got a request for a bunch of Sasquatch dolls for a baby mobile. I literally squealed!

Melissa – Tell us about your work space.
Trisha F. – My workspace is an absolute disaster area right now, and I am surprised that Sarah Trumpp has not beaten me over head with one of her sculptures or copper wands lately! I am lucky enough to be able to have a large space in her studio, which I have been neglecting lately trying to fill orders and get inventory made for shows. I will probably be spending my Christmas there reorganizing the piles of fabric, papers, yarn and books that are all over right now.

Melissa – What are some of your favorite mediums to work with?
Trisha F. – Since most of the art I am doing right now is fiber art, I have to say I love hand dyed wool, and alpaca is just pure heaven. I am trying to learn how to sculpt, and I really do enjoy working with clay.

Melissa – Are there colors you favor in your art? If so what are those colors?
Trisha F. – I dream in color. I love bright colors. I love dark colors. I love jeweltones. I love sparkles. I love black. I am messy, so me and white do not get along well. Unless it is white splotched with color. 😉

Melissa – Is there any art technique, supply or medium you would like to try?
Trisha F. – Pottery! I want to learn how to throw clay. I mean, I can throw it, but clay stuck on the wall like pieces of spaghetti isn't exactly what I am talking about. And it is kind of messy. It also tends to wreck my whole cobweb interior design look I have going on.

Melissa – When being creative what is one thing you must have?
Trisha F. – MUSIC! Have to always have the tunes on! Because….dancing!

Melissa – Who is your favorite living artist? Who is your favorite deceased artist? Why are they your favorite?
Trisha F. – Living, isn't really an artist, but a designer. Betsey Johnson. Just love her whole outlook on life. Skulls, and guns and tutus and glitter! And deceased would have to be Charles Schultz. Again, not really an "artist" in the common sense of the word, but what he did with Peanuts is amazing to me. And who doesn't love Snoopy and Woodstock?

Melissa – What is your favorite work of art?
Trisha F. – A shamrock that my youngest daughter painted when she was 3 years old and learning about mixing primary colors.

You can find Trisha's crochet creations in her etsy shopYankee Rose Creations. Her creations include amigurumi dolls, hats, baby attire and more.