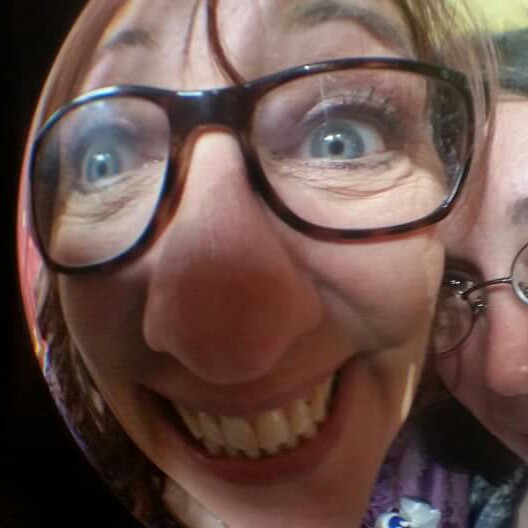 Meet Amy Anderson one of your guest hosts for the upcoming 12 Hour Art-a-thon that will be held on the 14th of January. Below is a quick interview to help you get to know her better.

Melissa – Tell us a little bit about yourself.
Amy – I live on the central coast of Oregon, surrounded by forest, ocean, river and bay, so there's tremendous beauty and inspiration everywhere. My husband, 16 year old son and I live a simple life, attempting to grow, forage, hunt, preserve and process as much of our own food as we can. We love living in Oregon and taking advantage of the natural resources – crabbing, fishing, hiking, mushrooming, beach combing, and enjoying the musical and artistic community in which we live.

Melissa – What kinds of art do you do? Which is your favorite?
Amy – For the past 9 years, I've primarily worked in soft glass, making beads and fused glass tiles. I've had to back off of the torch for health reasons, so I've been going back to 2-D art – drawing, painting, etc.
Melissa – What inspires your art?
Amy – Nature is a huge inspiration. I am also inspired by life in general – capturing little, everyday moments and finding the magic in them.

Melissa – Tell us about your work space.
Amy – It's generally very messy! I have a drawing/painting station set up in the living room, and a studio that occupies most of our garage. I'm pretty spoiled with the amount of space I have all to myself. In the past, I've had as many as 8 glass artists comfortably working in the studio at once, so that gives you an idea.

Melissa – What are some of your favorite mediums to work with?
Amy – Glass is my very favorite. I also love pen and ink, watercolor, alcohol ink, ceramics, metal, collage, mosaic, digital art and mixed media.
Melissa – Are there colors you favor in your art? If so what are those colors?
Amy – I use primarily bright, saturated, high-toned colors – what I think of as a New Orleans palette.
Melissa – Is there any art technique, supply or medium you would like to try?
Amy – I want to work with acrylics more. I've just barely dabbled in them. I've always gravitated toward mediums that highlight the interaction of light through transparent color (glass, watercolor, alcohol ink), but I'd like to work in an opaque medium for a while.

Melissa – When being creative what is one thing you must have?
Amy – If I'm in pure creativity mode, I like solitude, and sometimes music. If I'm in production mode, I enjoy company and something to distract me, such as audio books.

Melissa – Who is your favorite living artist? Who is your favorite deceased artist? Why are they your favorite?
Amy – My previously favorite living artist just died a couple of years ago – George Rodrigue, a South Louisiana artist known for his iconic Blue Dog paintings. He was older than me, but experienced a very similar childhood in South Louisiana, so watching him grow as an artist in our shared culture was inspirational and informative. He also employed a "New Orleans" palette – bright, saturated hues with strong contrasts. Blue Dog evolved into his alter ego in his paintings, so Blue Dog often expressed how the artist felt about a given situation.
Cappy Thompson and Dale Chihuly are two living artists I really like – their glass is amazing. Some favorite deceased artists include Picasso, Kandinsky, Albers, Chagall, Van Gogh, Monet, Degas, Munch, Hokusai, Miro, Klimt – basically the artists who worked between the late 1800's and early 1900's. That's the most exciting period of art for me.

Melissa – What is your favorite work of art?
Amy – I don't think I could pick one favorite. Right now, I'm in love with Van Gogh's sunflower paintings and his Ukiyo-e (Japanese wood block prints) inspired work. His painting, "The Courtesan", for example, was inspired by Japanese Ukiyo-e artist, Keisai Eisen, and incorporates the Japanese aesthetic into his already unique voice.

Amy's art can be found on Som1Store. There you can find, jewelry, clothing and custom knobs.