Hi there! Ruth here… good morning to some, good afternoon to the rest of us!
Today is about texture. There are very simple ways to add texture and there are more advanced ways that are still very simple.
Anything you do that adds layers is going to add texture. Anything you do to add bumps, lumps or dents in the surface of your artwork will also add texture.
You can add tape, use your finger and dab paint on so that it leaves tiny little mountains (or great big ones… those are even better.)You can also glue things like beads and buttons and strings to the surface of the card to add texture.
You can use texture to create a picture by rubbing the side of a crayon on paper set on top of a really textured surface… I've done this with concrete, bricks, pasta drainers, hot pads, mouse pads, coins from my purse and keys and buttons and… you get the idea. 😀
You can also "emboss" items by rubbing them down into a textured surface with the back end of a round paintbrush or bottom of a plastic paint bottle or chap stick lid or back of a spoon if that's what you have handy.
Here are some examples from pieces that I am making for this event.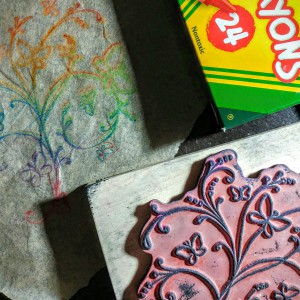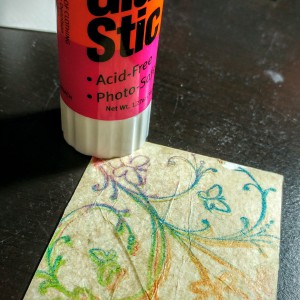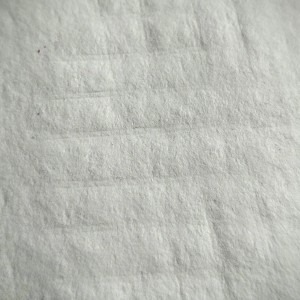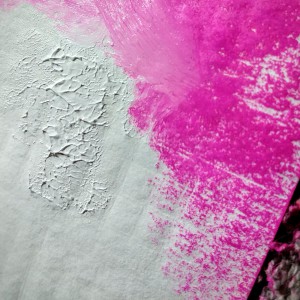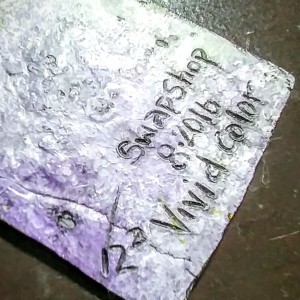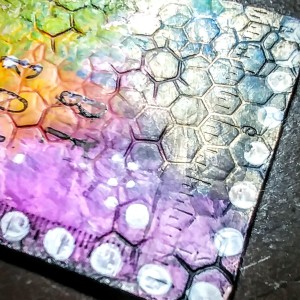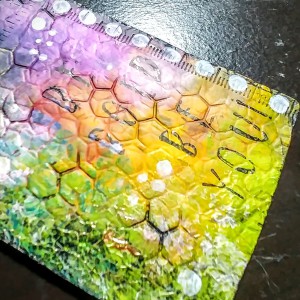 Experiment… by using a dry brush you can bring out the natural texture on an item and by barly brushing the surface with the paint so that the color only "lands" on the top of the texture and leaves all the lower places the original color.
EXPERT TIP: use your fingers whenever possible… it is much easier for your fingers to leave "too much paint" so that you get texture and you can feel when you've created mini mountains or left paint on only the high parts of textured or embossed.