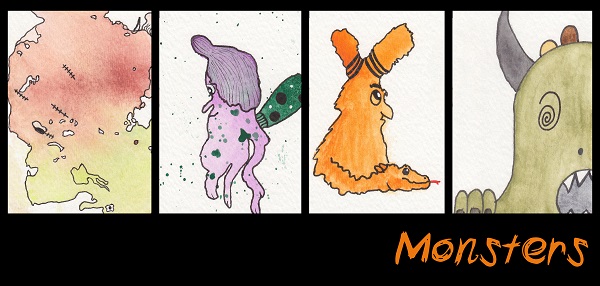 There can't be anything more fun… or terrifying to create… than monsters.
They come in every shape and size and with every meaning from the morose and horrific to the hilariously endearing. Quite literally from that "thing" in The Grudge that still makes me shiver to Mike and Sully from Monsters Inc. From Frankenstein's tragic creation to the squelchy ugly critters from Labyrinth who were really just grosser than they were anything else.
I have for you some different types… and then we're going to create some online together… or, well… I'm going to create some and let you see the "how" part by taking pictures along the way.
First… a yarn monster who is sadder than he is scary… my injured decacepholapod… he hasn't got a name yet. Maybe you can help…
I crocheted this guy with inspiration from a 104 years young woman named Grace Brett who has been yarn bombing Scotland as a member of a group of guerrilla knitters and has become my recently adopted personal Saint. One of the items that was found in Edinburgh this year during the Fringe was an octopus with an amazing face that inspired my unnamed friend here.
My guy has been injured somewhere, we're not sure where… he is just hoping for an easy life where his only scrapping has to do with paper and scissors and maybe some glue.
I sewed white yarn onto his stumps, added a black yarn eye scar and I think he's awesome. And yeah, if you lift his legs and violate his privacy a little, he does have a beak because cephalopods have those. This poor guy seems to have bitten off more than he could chew once, though, because his beak has been knocked a little off center. Yep, that's the story and I'm stickin' to it.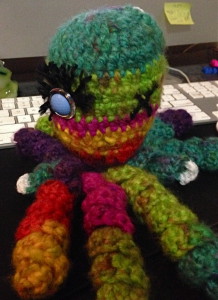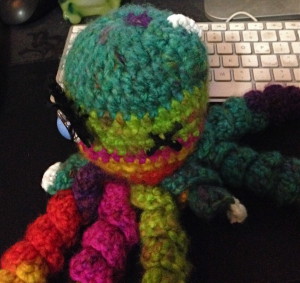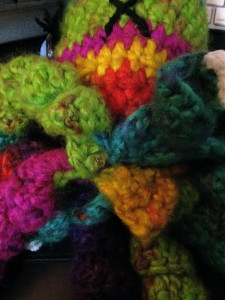 Second… some silly clay monsters… in all the ways that you can make them, from desk sitters and ornaments to jewelry.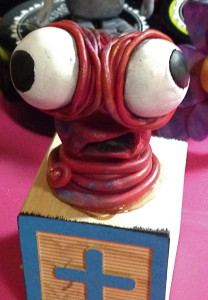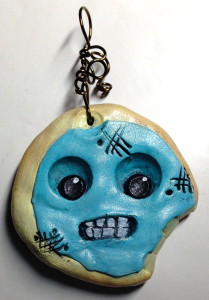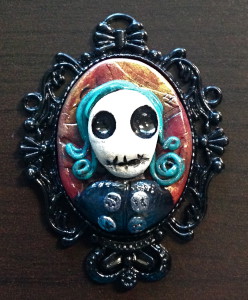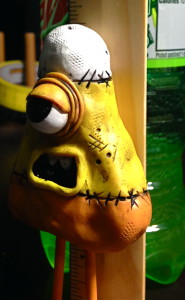 And today… I'll do some clay crafting and one of you might just win the result… you'll have to post to the feed during this prompt. Anyone else want a monster pendant? I know I do. And you're going to decide what it looks like! One eye or two? Should it be a boy or a girl? Lots of choices will be made and lots of creatures will be created!

For this prompt I plan on creating swappable monster parts artist trading cards. I plan on combining 3 cards that create a complete monster. Then I can swap parts with others to create a new monster. This idea is based on a Queen of Hearts atc swap I participated on in atcsforall a few years ago.

Here are some examples.

In order to make sure everyone's monster parts align I created a template that you can use. Click the image below to download the template. If you don't use the template then your parts might not line up with everyone else's.

All the monsters I create will be up for trade at the end of the art-a-thon. So who will join me?
As a change of pace I've decided to crochet a critter or two. I found this yarn that is super soft and has puff balls along it. I will use some kid safe eyes. Normally Cyclops type monsters make for longer lasting eye supplies but this time I'd like to see how many eyes I can get on one creature and have it still look cute or at least cool.
YAY MONSTERS!  Monsters are my most favorite thing ever.  I have been on a monster mission of late, creating them out of paint, fabric, plaster, polymer clay, and everything in between.  I am working on making a monster army, so I'll be rocking it out with these little guys.
Here is a video of A Nightmare on Elm Street's "Freddy's Coming for You". Growing up I loved the Nightmare on Elm Street series; especially the earlier films in the series. Of all the 80's horror classic villains Freddy Krueger was my favorite; with his hideous face, razors as fingers and stalking and killing teenagers in their dreams essentially turning them into nightmares. ~Melissa