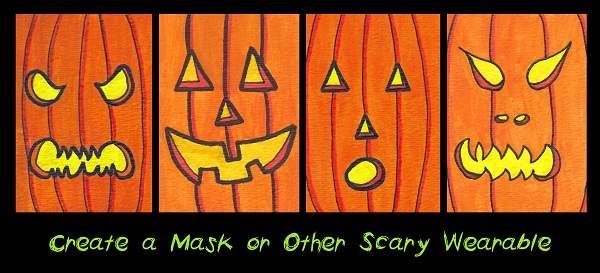 Hi! Its Melissa again. We are now halfway through the art-a-thon. Hope you are all having fun.
The prompt now is to create a mask or other scary wearable. Humans have worn masks for over 9000 years and quite possibly even much longer than that. Masks can vary in usage. They can be used for ceremonies, rituals, protection, entertainment and disguise. Masks can be very simple or even very elaborate.
Halloween masks and costumes in particular originated centuries ago during the Celtic festival of Samhain. Samhain is a celebration that honors the end of the harvest season and the beginning of winter. It was believed that, during this period, the veil between the living world and the world of the dead was thin. This allowed the spirits to pass through to our world. Food was left to welcome ancestor's spirits. Evil spirits also would pass through so the Celts would dress up in costumes and masks to scare away and trick the evil spirits.
I will be making 2 masks today. For the first I purchased a skeletal mask that I will paint on and give it a calavera look. For the second mask I purchased a hard mask to use as a mold to create a clay mask using paper clay . I molded the mask a few weeks ago since it would take a couple of weeks to dry. While it dried it cracked in several places however rather than scrapping it and doing a new one I decided to use it as is and just incorporate the cracks in my design.
Below are pictures of the masks I will be painting.


I believe I will be taking a dummy head and cutting off the face. I want to see if I can create a mask to look like my comic book hero from SUPER! Depending on the success or lack there of I may choose to glue a variety of objects to it as a base. It would be fun to make something I could wear on days other than Halloween or Comic cons. Possibly a monster on a hair clip….
On the wearable scariness front… I have made a number of monsters… and have a few monster related pieces that I will share today in the feed… and this was made to be a prize offering for the winner that will be chosen today. that is my son facing you with the hat on his head but for reasons unknown to me, he pulled his hair over his face like Cousin It first. I promise he was clean… LOL

Warning: This is less scary to wear than to be seen with while someone else wears it. IMO.




I don't make a lot of wearables in general, but I do love some crazy hats and jewelry.  I've been wanting to make a bunch of horrifyingly adorable pendants, so I guess it's time to change that!!