This is Melissa from Unwavering Imagination again. I'm back for my final prompt hosting. Even though this is my final prompt hosting I will still be around.
Congrats on surpassing the halfway mark!! How's everyone doing? Feeling tired? If so maybe its time to take a break and rest a little. Remember breaks are important; a short nap will refresh you and even just stepping away from your art for a few minutes will allow your hands to rest a little.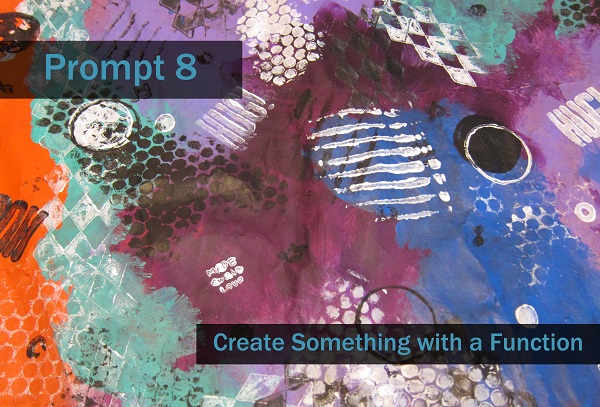 Prompt 8 is to create something with a function. Functional art is aestetically pleasing but serves a purpose. An example of functional art could be a vase with a painting of an ocean scene. Besides being beautiful it can also hold flowers. Another example could be a table with a mosaic top. Don't have time to create anything that big? You can create a small art piece out of clay and turn it into a magnet or jewelry or you could create a journal with an artsy cover.
Below are some zombie magnets I created last year. They were created with a face mold and paper clay that Ruth gifted me. Rather than just a regular face I tore at parts of the face to make it seem like it had been attacked by a zombie and then had turned into one. Once they were painted and varnished I added rare earth magnets to them.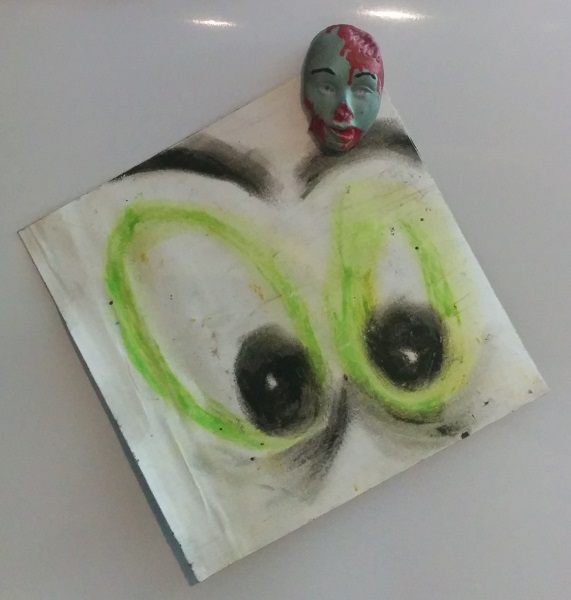 For this prompt I have three things I plan on creating. The first is a dice tower. I plan to make it look like a medieval tower by using plaster to give it a stone like texture. However this one will take a lot of time due to the drying of the plaster and then the paint so I have no idea if I will be able to finish it during the two hours for this prompt but it will be done by the end of the art-a-thon. I also plan on painting a bottle that will also be a vase and lastly I would like to make some coasters out of tiles using alcohol inks. Probably too much to accomplish in 2 hours but it at least gives me options.
Well now I am off to create my dice tower so I will leave you with a quote.
"I am always doing that which I cannot do, in order that I may learn how to do it."