Welcome to hour 7 of the art-a-thon! How are things going? Hope you had a good lunch or are going to have one soon. Usually when I'm busy creating art I tend to forget to eat. I'm too focused on what I'm doing that I don't realize how much time has passed. Now I set alarms on my phone to remind me. Sometimes though if I am really into what I am doing, I turn it off and keep working. When my body finally realizes I haven't eaten I tend to feel tired. So remember to eat something even if its just a snack every now and then as you will need the energy especially if you want to stay up for the entire 24 hours. Now onto the prompt!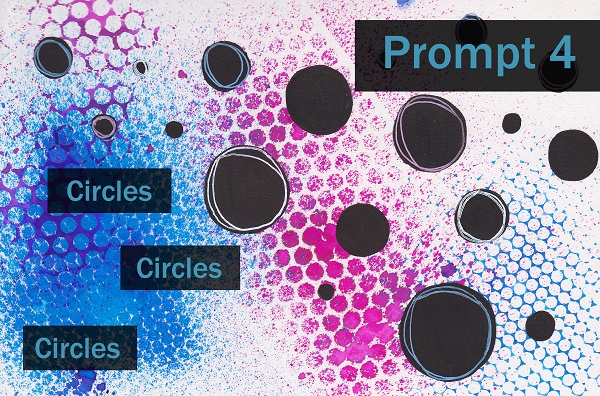 Your fourth prompt for the day is Circles, Circles, Circles! I love drawing, doodling and painting circles, spirals and swirls. They are my go to shape though I do try to give the other shapes some love too. Circles are just so much fun. I even find myself sometimes absentmindedly doodling them.
You can decide to do just circles or you can be a little more creative with it and create patterns that create a circle or creating a circular art journal page or painting. Remember you can interpret the prompts in whatever way you like.
If you don't want to draw circles freehand you can use stencils, bottle caps, cans of soda, cds/dvds, punchinella (sequin waste), the eraser on a pencil, paper towel rolls,a straw, bubble wrap or even an old contact case. Almost all can be used to create outlines of circles and some will create filled in circles if you dip them in paint or ink.
Do you have a favorite shape?  If so let me know in the comments.  I would love to know.
Well I'm off to work on the prompt so I will leave you with another quote. This one is from my favorite painter.
"If you hear a voice within you say 'you cannot paint' then by all means paint, and that voice will be silenced."