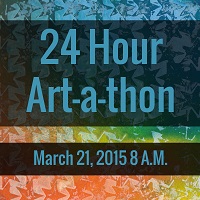 We are excited to announce our very first 24 Hour Art-a-thon! It will be held on March 21st at 8 am. Hosted by Melissa of Unwavering Imagination, Rhonda of Chase's Creatures, Ruth of Twelve Squared Creations and Sarah of Wonderstrange.
It will be 24 hours to have fun and create as much art as you can. During the 24 hours prompts will be given every few hours. There will also be mini challenges and prizes. Signups for the art-a-thon will go up mid February. More information will be posted as we get closer to the art-a-thon date.
If you wish to keep up to date on the 24 Hour Art-a-thon please subscribe to our blog by entering your email in the subscribe section located on the sidebar to the right.
We hope you join us for the art-a-thon!